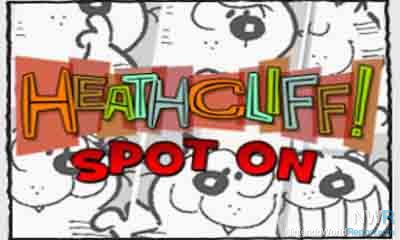 Guru Undead_terror's thoughts
This DSI ware game is about a ficitional cat who was introduced in 1973 and has been in comics and a TV show along with a upcoming movie, he is the star of this spot the difference game along with his friends. You play this game by holding the DSI system or 3DS on it's side like a book and use the touch screen to spot the difference in 120 levels with multiple versions of the same picture, the levels look like comic pictures in which some are coloured and some are in black and white, you are given five lives (or tries for this matter) and assistance so it helps you out because you are timed and to have extra tries and assistance makes it easier. While you got the normal mode, you got a local multiplayer mode that you can compete for fastest time or help solve a picture together, picture archive in ehich you can replay any level again, paint in which you can create your own drawing like in microsoft paint and Waka Health which is like wack-a-mole in which you hit the mice coming up through holes but avoid Healthcliff. Even the music in the game is really good and catchy making you have a good gameplay experince. This game is a fun experience and has replay value to offer, this is even probably the best spot the difference game I ever played, at $5 it's not a bad deal.
Rating: 8/10
Guru Morpheel here to talk about Heathcliff Spot On!
I'll be honest and say that this actually the first time I see this character, it seems like a nice comic though.
The game itself seems to be a solid entry to the spot the difference "genre". You play screen after screen getting points until you lose all your lives, each screen has only 5 differences to find, so it's a fast game.
The hub is kept hidden and the gameplay takes place with the console held in the book position which gives plenty of room for detailed images (for the DS's screen).
It is kinda hard though! Specially the black & white scenes (which can tire the eye quite easily), thankfully you're given some tools to help you advance.
I really like the fact that there are extras included, in the form of a whack-a-mole minigame that is played every 10 rounds of the main game (and can be unlocked to play at any time) and a little paint clone where you can draw and color over the many images you can unlock via the main game (120), It is a little rough in the edges but it's pretty entertaining and a great thing to include to make use of the many images.
In the end, this is a really nice option for fans of the genre and the included coloring book option and added minigame will keep even the little ones entertrained. Just make sure to read the instructions first!

____________________________________________________________________________________________________________________
Guru Happy's Opinion:
Honestly, I have very little to say about this one.  But that's a good thing in this case, as not much needs to be said.  Heathcliff Spot On! is simple and engaging, and could be seen as a role model for the Spot The Difference Genre as a whole.
I can't for the life of me figure out how to use the items however, (which are supposed to help you find differences)even after looking at the tutorial.  There are difficulty settings however, so I was capable of actually completing some levels, even with my inexperience with the genre.
This is really only geared towards fans of the genre, or Heathcliff however, and it's not something I would recommend to anyone who isn't a fan of either.
Final Score: 7/10
Categories: All Reviews, Impressions, Other